If you think you have seen it all, you have not seen Hill's collection of unique Bathroom Vanities and Wet Bars.
A quality bathroom vanity may be all you need to bring your old bathroom up to date. One amazing vanity can make the statement you have been looking for. At Hills Showcase in Naples Florida, we carry a huge selection of custom made vanities that you can purchase right off our floor. We have an amazing show room and a amazing eye for the eclectic. If your taste is not of the average person, you need to come into Hills Showroom today. You will be blown away with the amazing bathroom and kitchen fixtures, Electronic toilets, beautiful sinks and wall to wall vanities.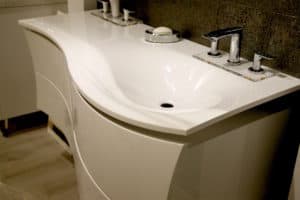 Instead of buying a vanity alone, how about matching hardware and pulling accent colors into the show tiles and making that special statement a central design element of the entire bathroom.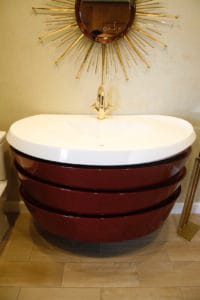 Working with Hill's is much different than working with a decorator; most decorators have to juggle several subcontractors to get the same job done. When you work with Hill's for a kitchen or bathroom remodel, you get all the subcontractors in one company. Hill's remodeling service includes a three-prong approach to a bathroom or kitchen remodel. The first is that we know plumbing fixtures, how they are made, how they work, and how they need to be installed. Our DNA at Hills originates as a company of masters plumbers. In fact, Hills still runs and maintains Southwest Florida's oldest local plumbing company. You can rest assured that a master plumber will be on site to install the most important elements of your remodel. Secondly, we are Florida state insured contractors. Most designers need to subcontract out to a Florida contractor. At Hill's we are the designer, contractor and installer. And lastly, we are the retail supplier for most of the elements within your kitchen or bathroom remodel. This affords our customers the flexibility in delivery and cost. We have a collection of fixtures more inclusive than any bathroom or kitchen retailers. Stop in Hill's and see why we have an unmatched reputation for kitchen and bathroom remodeling.